Lee Ranaldo talks to Pitchfork's Jenn Pelly about Marquee Moon and other favorite records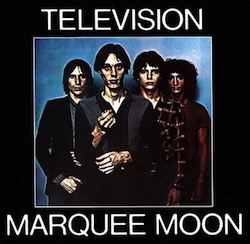 Here, you've got the dawn of the punk movement—stripping music back to the essentials. At the time, that was very important to my re-involvement with music, which had gotten so bombastic, serving larger audiences and scenes and big stadium concerts. When I was in the first years of university, I fell in more with the visual arts crowd because it was more interesting than where music was. But then these NYC punk bands brought things back to small clubs and basic musicianship. It revitalized and redefined what music could be, taking it out of the "big time/factory/money machine" and to the people in dank places like CBGB or Max's.

Television also played really great songs that were sometimes quite challenging. Television, the Dead, the Beatles: These were groups where you could feel that if any one stem dropped out, the records would not be what they were. It was about collective participation. I did music for this Todd Haynes film about Bob Dylan a few years ago called I'm Not There; we put together a small band, and it included [Television's] Tom Verlaine. Playing with him was a real blast of an experience.

The first time I heard Marquee Moon, I was in college in Binghamton, New York, and we'd been listening to some of the other records from that period, probably Talking Heads and Patti Smith. I'd seen both of those groups play around, but I heard Television were really the band from that period. It wasn't the Voidoids or the Ramones—it was Television that could flex this incredible musical muscle while having great songs and punk poise.

I spent a lot of time in the cinema lecture hall at school, and it had a great sound system. A couple of other guys—all of whom I would go on to play music with to one degree or another—and myself got ahold of Marquee Moon and put it on the big Altec-Lansing speakers and sat in this empty theater. We were staring at a white screen, listening to the record, almost in the dark. It was an incredible way to experience that record: quite loud, quite clear. It knocked us all out.
doomandgloomfromthetomb likes this
bryanwaterman posted this